URBAN
$2900
Available NOW!
Expected Size
Small (10-20lb)
Age
14 weeks old
Fur Color
black
Birthdate
14 July, 2021
Puppy ID
#4516
Location
UT
Nationwide travel available
About URBAN
Hello there! My name is Urban! I live to love and be loved and I will be your family's best furry friend! Parents are health tested 100% clear and raised with families and very young children. I am up to date on vaccinations, dewclaws removed, deworming every 2 weeks, health tested by a veterinarian, early neurological stimulation training and very well socialized, I come with a blanket with my mama's scent, a bag of new toys, puppy life-time record book, vaccination and de-worming records and a bag of food.
About Bernedoodle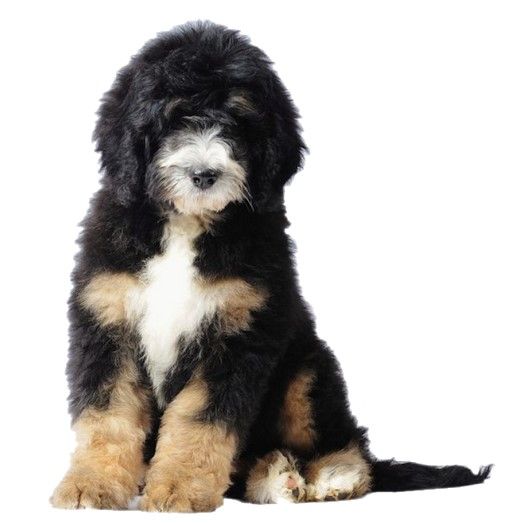 Hypoallergenic
Also known as the Bernese Mountain Poo, The Bernedoodle is a cross between the Bernese Mountain Dog and the Poodle. Their fluffy black and white fur covers their adorable, friendly faces and forms curly tufts over their big paws. Bred entirely for companionship and to develop that warm, loving loyalty to family, Bernedoodles are great with children. These dogs stand about 23-29 inches high at the shoulder and weigh between 70 and 90 pounds. The Bernedoodle is a docile and excited companion on family trips and is easy to train.
Health Guarantee
This puppy is protected by a health guarantee.
2 Years
ALL GENETIC DEFECTS AND DISEASES
Certificates & Registrations
This puppy comes ready for your home!
Health Certificate

Vaccinations

Veterinary Check
Certified Breeder
URBAN's breeder is approved by our health, safety, and socialization standards.
Certified Bernedoodle Breeder
View Breeder Profile
Pickup & Travel
The following options are available for you to get this puppy home.
Find the
travel cost
to bring this puppy home!
Why Friend a Puppy?
Dedicated Service
Our concierge service is here to answer your questions, and help with the safe arrival of your puppy home!
Vetted Breeders Only
Our Breeders are assessed for health, safety, and socialization standards. We have zero tolerance for puppy mills.