Copper
$1950
Available NOW!
Expected Size
Large (40+lb)
Age
8 weeks old
Fur Color
red
Birthdate
24 August, 2021
Puppy ID
#5025
Location
Texas
Nationwide travel available
About Copper
This is Copper. He is a F1b Goldendoodle. His coat is soft and will be wavy. He is an apricot/red and has a liver colored nose and green eyes. Copper is mellow and quiet. He is curious and loves to play, but is not high energy. He loves to interact with his siblings and humans. He doing so well at potty training and is learning to sleep through the night in his crate. I estimate his weight to be 50-60lbs fully grown. All of our puppies are raised in our home and we do ESI and ENS in their first few weeks. We also do noise desensitization, lease introduction, crate conditioning, and early nail trims/baths. Our goal is to breed happy, healthy, and confident puppies that will bring joy to their new families. All puppies will come vaccinated, microchipped, dewormed, and be checked by a vet. They will come with a two-year health guarantee and they will go home with food, toys, a blanket that smells like mom, and a comb. The parents are both genetically tested through Embark and are clear of any defects.
About Goldendoodle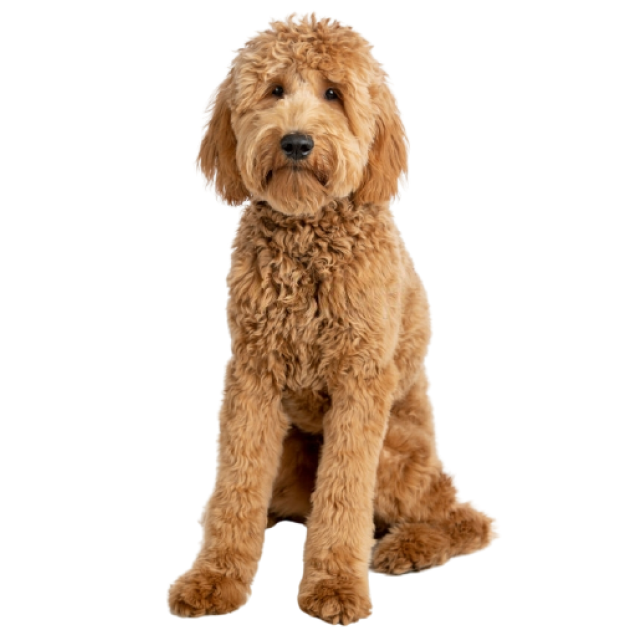 Family Fiendly
Hypoallergenic
This mix of Golden Retriever and Poodle creates a beautiful breed. With the colors of the Golden Retrievers and the curls of the Poodle, this breed is often seen as a 'designer' dog. This crossbreed is friendly and full of energy, both familiar traits of the Golden Retriever. They make for perfect family pets, especially for those with children. These dogs are smaller than Golden Retrievers, ranging in size from 30 to 45 lbs, and can live anywhere from 10 to 15 years.
Health Guarantee
This puppy is protected by a health guarantee.
2 Years
It covers genetic defects and any other long term conditions the puppy may develop.
Certificates & Registrations
This puppy comes ready for your home!
Health Certificate

Vaccinations

Veterinary Check
Certified Breeder
Copper's breeder is approved by our health, safety, and socialization standards.
Certified Goldendoodle Breeder
View Breeder Profile
Pickup & Travel
The following options are available for you to get this puppy home.
Find the
travel cost
to bring this puppy home!
Why Friend a Puppy?
Dedicated Service
Our concierge service is here to answer your questions, and help with the safe arrival of your puppy home!
Vetted Breeders Only
Our Breeders are assessed for health, safety, and socialization standards. We have zero tolerance for puppy mills.